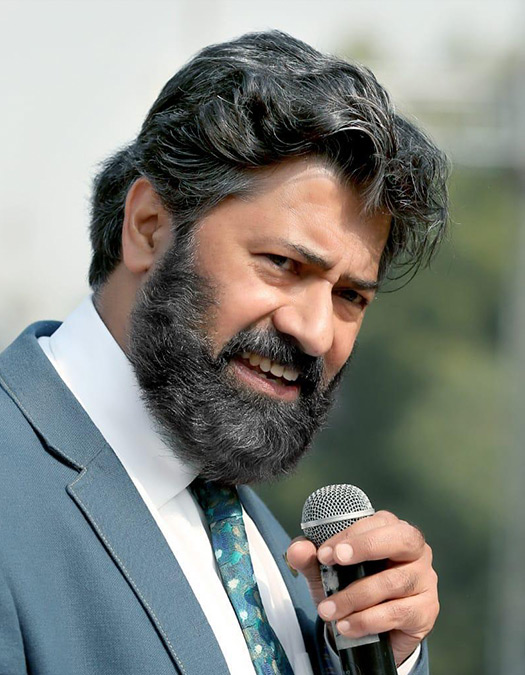 Dr Vijay Datta (2014 – Present)
President's National Awardee
Dr Vijay Datta B.Sc, M.A, M.Ed, PhD in education, GOC-in-C Commendation, President's National Awardee, Shiksha Rattan, having secured a PhD- A detail study of Life Skills and Emotional Intelligence as a correlate of Scientific Attitude, has been instrumental in bringing the concept of Life Skills to the country besides propagating the idea of Emotional Intelligence and Scientific Attitude.
He has an experience of 35 years in the field of school education. He took over the reins of Modern School, Barakhamba in 2014. His pro-active approach has ensured distinct rise in the academic index and in the holistic development of the students. Dr Datta's assiduity and conscientiousness in duty has propelled
Modern School to greater heights as it was appreciated by the Prime Minister of India, Shri Narendra Modi and the President of India Shri Ram Nath Kovind in the form of an inspirational letters for its remarkable achievements. Dr Datta is the Member of the Governing Body of CBSE. He has been spearheading pertinent discussions on the N.E.P. for the members of IPSC schools.
To hone leadership skills in students, International Community Development and Leadership Exchange Programmes, Round Square International Conferences are held regularly. He encourages students to follow the ideals of Internationalism, Democracy, Environmentalism, Adventure, Leadership and Service promoting compassion and awareness for the cause of society.
He reintroduced NCC and horse riding in Modern School. To boost sports related activities, lecture-cum-demonstrations by players of national and international repute are organized regularly to inspire the students to learn from their achievements and rise above challenges and temporary failures. Dr Datta is Director (Sports), IPSC, Vice President of the Delhi Lawn Tennis Association, Member of the Executive Committee, S.G.F.I., Executive Member, Subroto Mukherjee Sports Education Society. As the Observer for the 66 th National School Games Tournament 2022-23, Delhi, he ensured the smooth and fair conduct of the games. A sports enthusiast, he encourages and promotes new talents nationally and internationally, under his guidance many students have represented India at various National and International platforms.
His administrative acumen and concern for the specially abled is evident with the introduction of 'Sportability' at Modern School Barakhamba Road. 'Sportability' is an inclusive academy with world class sports facilities for children with special needs. With his constant efforts the members of the Academy have won medals at various National and International Competitions. Sportability initiative has been appreciated by Shri Anurag Singh Thakur, Minister of Youth Affairs and Sports & Information and Broadcasting, through an inspirational letter.
During his tenure as the Principal, APS Dagshai was recognized amongst the top residential schools of India. Under his able guidance the school won many prizes in various sports and co-curricular activities at the district, state and national levels. With Dr Datta at the helm, the school recorded an unprecedented rise in academic performance index. Not only did he enhance the academic standards but with due emphasis on co-curricular and sports gave the school a true public-school character. Dr Datta deeply encouraged the values of
humanism and compassion in his wards.
In 20 years at Mayo College, Ajmer, Dr Datta held positions of 'Dean' and 'Housemaster'. In addition to these roles, he directed several annual plays, organised debates and was the Editor of various school publications. During his time at Mayo, He also organized various cultural and sports activities. Dr Datta was supervisor of various games and sports. He continues to remain passionate about horse riding, tennis, golf, parasailing and flying Micro Light Aircrafts. He also trained teachers as Master trainers, conducted workshops for teachers on Dyslexia. Dr Datta served as a resource person and an expert for various workshops and seminars at the Regional Institute of Education, Ajmer, a constituent unit of NCERT.
Keeping in mind, 'Service above Self,' Dr Datta has strived to help the underprivileged people and inspired the students to do the same through various community service campaigns/projects. During the distressing times of the pandemic, he has been instrumental in launching numerous philanthropic initiatives, food, medicine and Vaccination drives.